Acorn Squash Breakfast Bowls With Yogurt
http://www.popsugar.com/fitness/Acorn-Squash-Breakfast-Bowl-42890982
Thank You for visiting www.judgeweightloss.com. This is the spot for all of your fitness, workout, healthy lifestyle, supplement, and just general get healthy information. Enjoy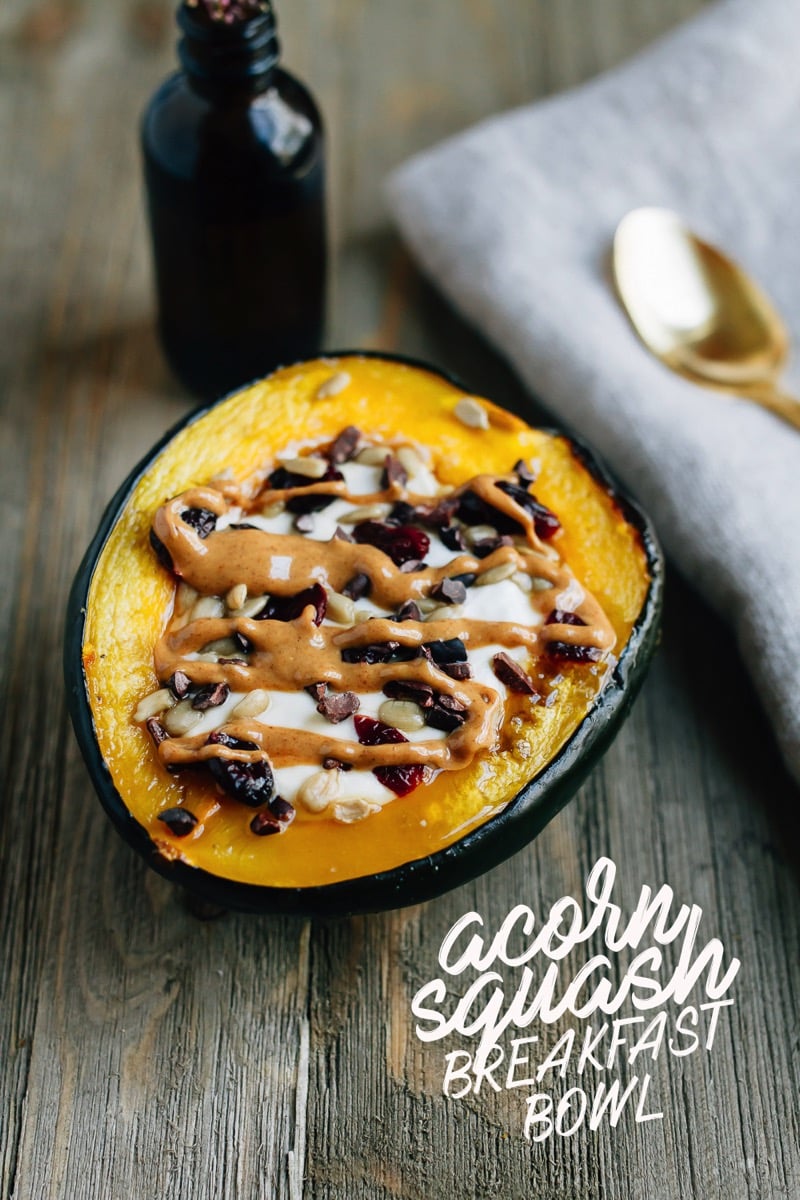 Roasted acorn squash breakfast bowls served warm with yogurt and your favorite toppings! A delicious, comforting breakfast for the Fall and Winter months.
The first time I had an acorn squash breakfast bowl was at my cousin's house a couple years ago. One morning while I was visiting, she roasted up a squash for us to share. We each loaded up one half with yogurt and fun toppings like granola, cinnamon, chia seeds, and peanut butter. One bite and I was hooked! I loved the sweet roasted squash topped with tangy yogurt.
I immediately decided I needed to share the idea here on EBF. It took me a while (over two years!!), but I finally have the recipe for you today. I'm excited because I love bowl meals — especially when they're edible — and I know you are going to enjoy these acorn squash breakfast bowls, too.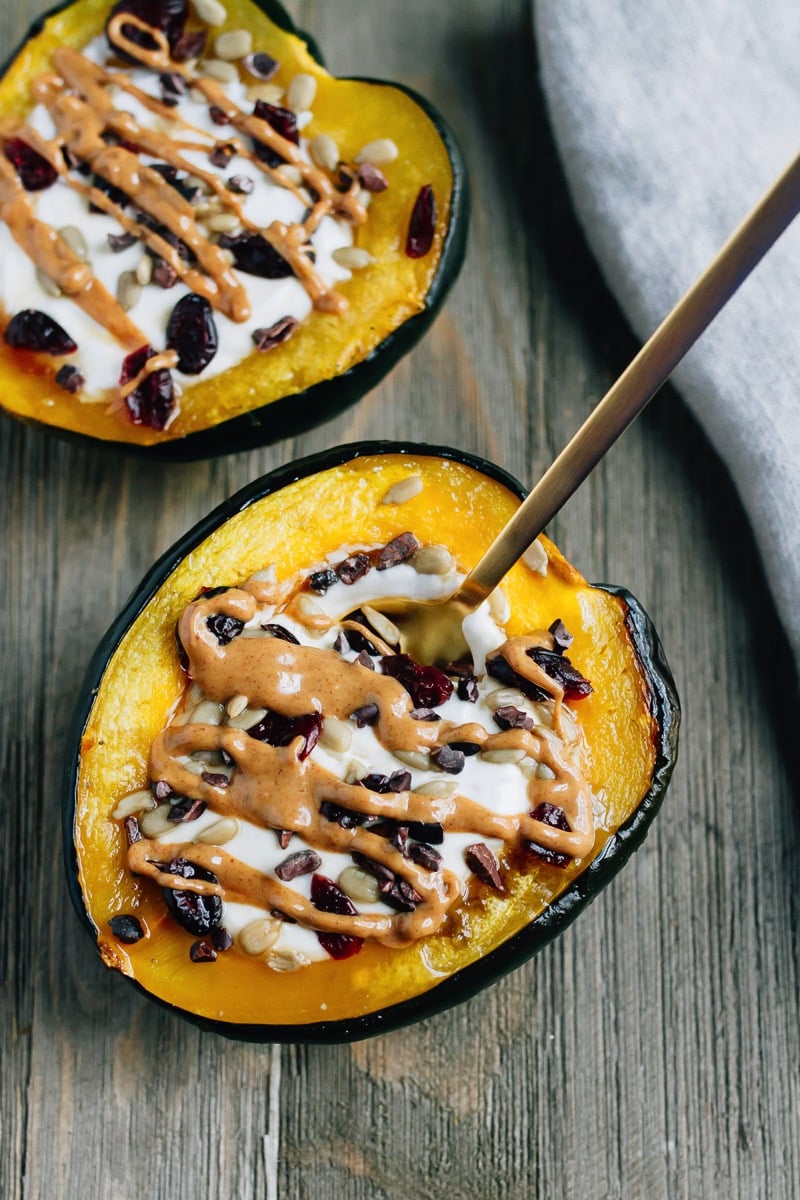 These bowls are not only gorgeous and fun to put together, but they're healthy and satisfying, and will definitely keep you feeling full until lunch. With the protein from the yogurt, complex carbs from the squash, and a little fat from the toppings, you're set! Plus, you get bonus health points because you're eating a vegetable for breakfast!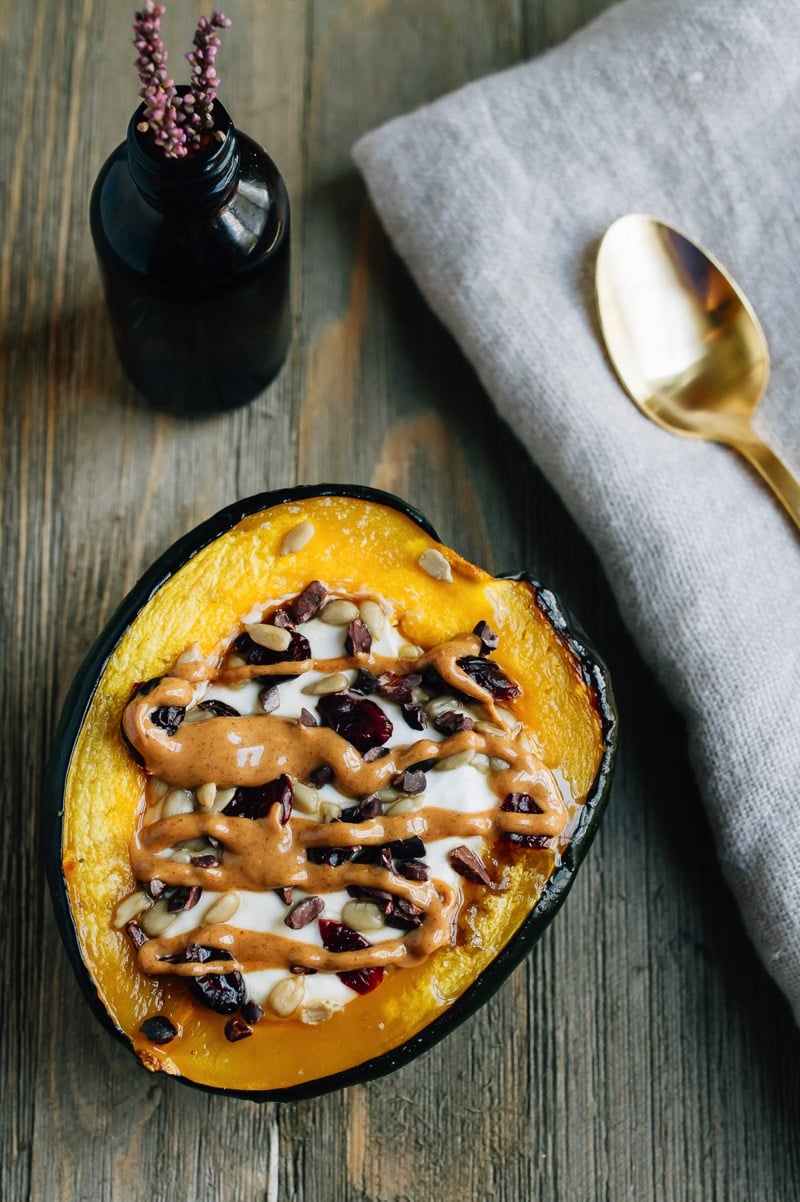 The bowls are super customizable. You can use whatever yogurt you prefer and the topping options are limitless. I used Siggi's Plain Sykr and then added dried cranberries, cacao nibs, and sunflower seeds, plus a drizzle of both maple syrup and almond butter. This combo was heavenly!
When it comes to putting the acorn squash breakfast bowls together, you can use freshly roasted acorn squash that's cooled for a few minutes or reheat preroasted squash to make the prep faster. Another option is to roast and chill the acorn squash, but I prefer it warm. It's the perfect way to enjoy yogurt through the Fall and Winter months when a traditional yogurt bowl seems too cold.